Infant
Offering Caring and Compassionate Infant childcare to Sierra Vista, AZ
Welcoming Infants and Babies
Our pride and joy at Great Expectations is our infant classroom, organized to provide a loving, caring environment filled with experienced and responsible caregivers.
Great Expectations ELC welcomes babies from six weeks to twelve months in our infant room as our earliest age range. Each year, the classroom will have a maximum of thirteen babies with three teachers. Babies are separated by a safety gate. Our littlest ones are on one side, and our six-month-olds and older children are on the other side. The older children are free to crawl, move, explore, and eventually walk around without disturbing the little ones in the group. The safety gate also provides the opportunity to see previous caregivers and old friends. Babies use their senses to explore and learn every day. Our babies enjoy many different kinds of music, nature sounds, songs, and fingerplays. They are also introduced to different kinds of books, each day.
Great Expectations is also a certified breastfeeding center.
Breast milk can be brought in each day or you can come feed your little one here. All babies are on an on-demand schedule for feeding and sleeping. They will transition to our one-year-old room when they are one and walking and we have a spot for them. We offer only full-time spots in our infant/toddler rooms. Weekly tuition will remain the same even if the child is not in attendance.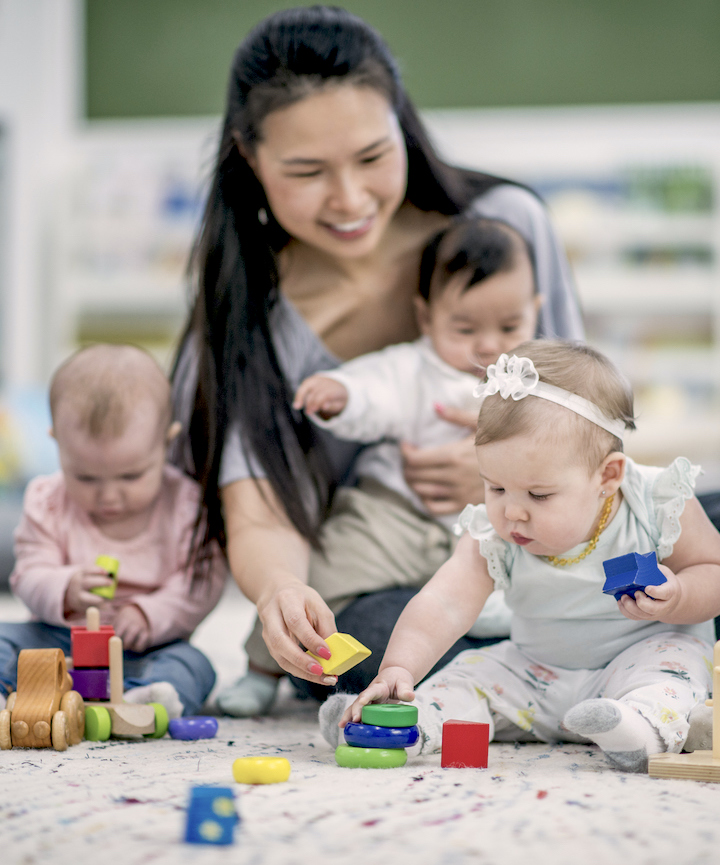 Our Special Classroom for 1-Year-Olds
When your baby has turned one year of age and is walking, she may come to one of three one-year-old rooms.
These classrooms are separated by age group. There are no more than six babies in each room with one teacher. While our main concern is the health and safety of your children, we still have plenty of time to introduce children to new and exciting materials and concepts. We enjoy sharing the child's daily activities on our information logs that go home each day to keep parents informed in the development of their children.
1-year-old children go outside to a private playground twice each day. We observe sun safety at all times, and water is provided and accessible at all times in addition to the regularly served meals and snacks. We only offer full-time slots in this room. Weekly tuition will remain the same until the child moves to another room and must be paid for even if the child is not in attendance.